Blog. Web design process, a guideline
Can you skip key design thinking steps and still create digital innovation online?
What is the best web design methodology and how can you ensure innovation happens along the way? Here is Unisono's process for creating slick, digital user experiences. 
A simple step-by-step guide to Unisono's web design methodology
Great creativity is more likely for those who follow a considered process – there are no short cuts to brilliance. This is Unisono's web design methodology: 
Know your client as well as they know themselves – First we research the client to know what they want want the site to achieve, how it will help them succeed and meet their business objectives. We also learn their brand from vision to guidelines and everything in between
Benchmark the best in the business – next we learn about the contemporary global best practice. We research similar brands and digital and web design innovations. We present these to the client so they understand what standard we are aiming for and to ensure alignment of expected outcome. 
Know your audience deeply, though Usecases – we work to understand who are the users and who needs to do what on the site. This really informs structural and content choices. 
Structure your content through site mapping & Wireframing – we draft the structure of the information in a tree diagram to ensure we have captured all the required content to satisfy the use-cases; this is also shared with the client so we can consult and again, ensure alignment. When the information and usecases are approved we can start sketching the site design and build interactive wireframes to test our design thinking. These are also shared with the client with a strong caveat that the final design will look a lot more finished! 
Explore and imagine though concept Moodboards & UI Design – with the structure of the site nearing finalisation we can start to put meat on the bones and bring the look and feel to life. Firstly we conceptualise the site design by creating mood boards of everything from colour and type to navigation and imagery. Once these are approved by the client we can begin designing the page designs that will be built in code. 
Build efficiently then test deep and wide – with approved UI designs we can go to code. We build using contemporary frameworks and tried and testing languages the we test every aspect of the functionality with real human users!
Create imaginative and engaging content and manage via simple CMS – a sites core's utility comes from helping users get simple access to engaging content. In this step we help the client to fill a great structure with wonderful content – imagery, video and writing. 
Publishing then marketing the site to users who will benefit from your content – with the design filled with wonderfully engaging content and with the eCommerce all working and product landing pages set up, we can prepare to launch the fully functioning site live on your domain and market it to your existing and prospective customers. 
Can you streamline your web design methodology for greater project efficiency?
The process for all great design is similar no matter what kind of product you are creating. The speed at which you can work through a web design methodology largely depends on the depth of the requirements and agility of the client-agency team. Fast progress can be achieved If there is great synergy, the availability of authority for approval and the requirements are simple. The process slows down when these things are not present and especially when complexity creeps in; if requirements are deep and far reaching and a truly imaginative response is required to solve an erstwhile intractable problem, progress can be slow. 
How can agile project management methods help?
Truly innovative web design can take years to develop. A great site no less than six months to a year. In the world of web and digital design six months is an eon, a year is a lifetime. If your web design methodology has multiple steps it can slow progress. So how can a project team expect to deliver the right answers to a design question if the answers change mid process? This is where agile project management process comes in. In place of long development milestones involving broad teams across multiple departments, small, agile groupings work in face paced sprints to deliver short term gains along a well defined critical path. 
In summary
No great production in this world was created in haste. Humanity's greatest endeavours, from Google's algorithm to Michelangelo's Sistine Chapel eventuated from considered creative processes involving the attainment of great knowledge and the exercising of incredible skill. Those who seek to shortcut a considered web design methodology seek to short-change their legacy and miss-sell their client. 
If you would like to see the results from our web design methodology, have a look at some of our work. For a show case of innovative web design click here.
Innovation can and will happen at any step in the process.
The creative process is not controlled by a switch you can simply turn on or off; it's with you all the time.

Alvin Ailey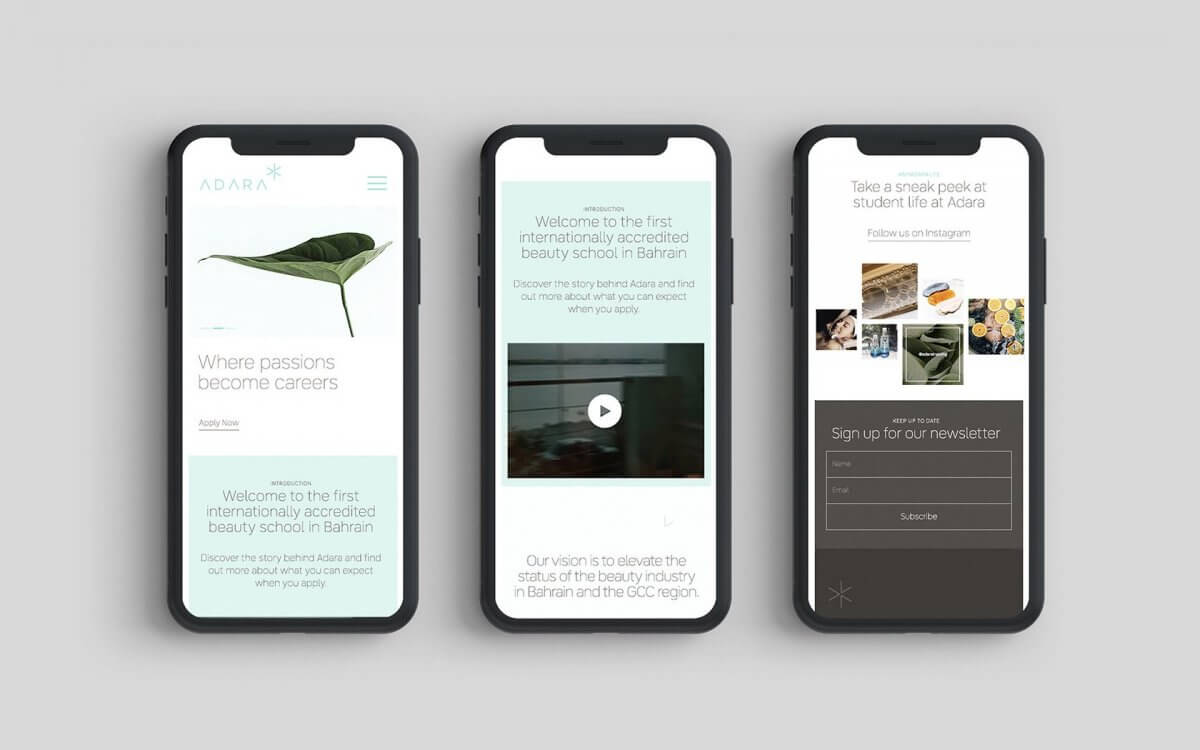 Innovative mobile experience created for Adara by Unisono