Blog. Real estate digital strategy, the second bit
The final two parts of our three part strategy for real estate.
As you will have learned from reading part one, the agency was recently asked to work on a real estate digital strategy for a leading regional developer. In this second part, we look at how we utilise Google's Display Network, linked to product campaign and segment-focussed landing pages (on their website) before we finally build post-sales report and advocacy via the email channel. Read on for more of the insights that matter. 
Converting prospects – the 2nd part of our real estate digital strategy
Once we have garnered interested prospective customers from the various digital channels at our disposal, the next part of the strategy is to convert them into customers. Each prospect has unique needs that must be satisfied if they are to convert to a sale – this isn't a one stop shop. We have an audience, now we need to show them things they are interested in, in a way that makes them want to buy. 
Great real estate digital strategy always starts with benchmarking
As we mentioned in part one, first things come first and that first thing is research and understanding. The strategy team audited the client's website to compare (and contrast) it to other leading sites -helping us understand contemporary best practice. The audience for their product is clearly bifurcated into two distinctive segments: 1) people who buy property and 2) companies who develop land into properties. The latter only become interested to buy from our client if the former are interested in the properties being built on the land. 
With two distinctive audiences segments, it makes sense to design the site so it reflect the interests and needs of both. The current site was evidently not part of a real estate digital strategy, as this segmentation of content was not in play. Our recommendation was to split the content provided by the home screen into these three distinctive content pillars:
Buyers of homes
Developers of land
Brand content (news, about, etc).  
Landers are key to your real estate digital strategy
With the home page reconsidered from an audience-first (as opposed to a company-first) perspective, we could now drive users directly to content they are interested to view. We then proposed the use of campaign-specific landing pages that aligned message and image content to the campaigns being pushed via GDN and Paid Posts on Social Channels. These landers ensure that interested people and companies land on offer-specific pages and can complete a buy-or-die form directly on the first page they land on. This approach is proven to lead to higher conversions as prospects do not have to self-serve themselves (AKA'search for')  relevant information – all the information they need to commit to the next step in the sales process is right there on the page they land on. 
Precise marketing language helps increase impact
Our real estate digital strategy understood the needs and wants of our audience. From this we could ensure our marketing language was precise (more on this topic, click here) and on point. Our CTO for people who buy property was 'Show me Properties' where as our CTA for companies who develop land into properties was 'Show me Land'. Simple, precision language like this all adds up to the marketing campaigns efficacy and is often overlooked.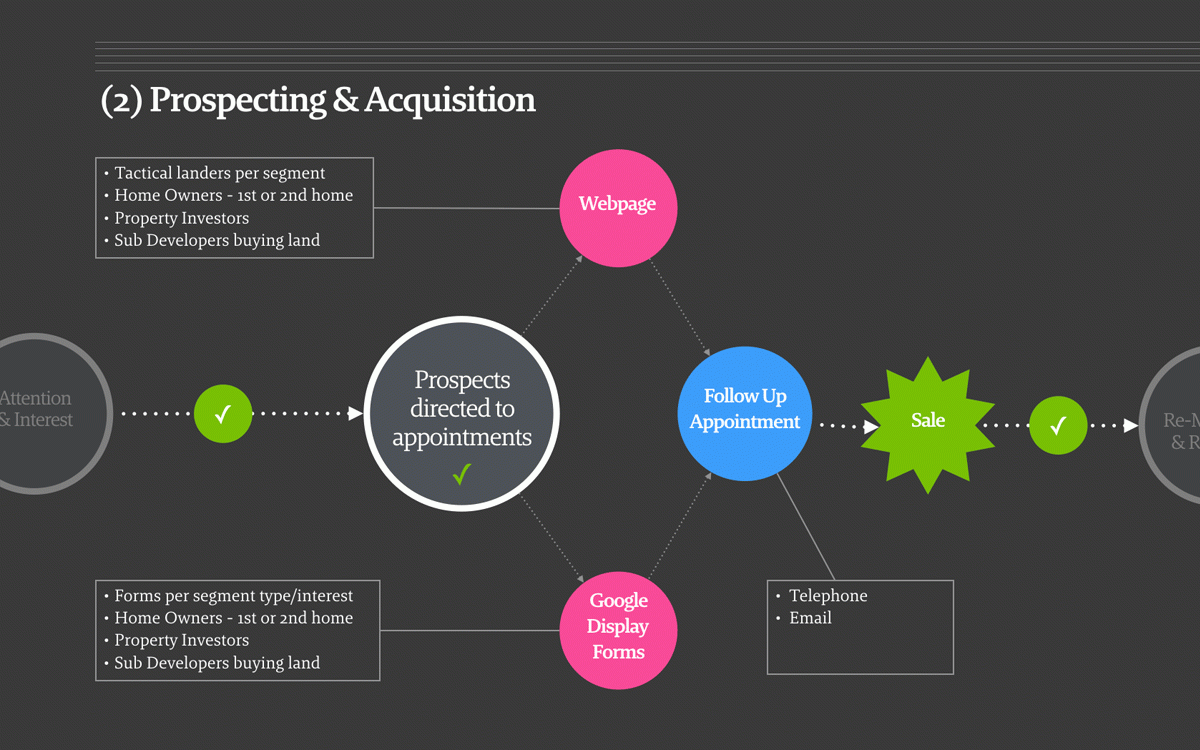 Step two is all about conversion, getting appointments with prospects.. and closing deals.
Digital marketing is the same as regular marketing, you show your products to people in the market and focus on those who are most likely to buy. Only difference is, you are using digital channels to do so. Its more technical but at heart, its the same thing.
The shy marketeer.
With interested prospects on your site and completing data capture forms so they can receive detailed information about your product enables us to capture key contact info. Our client could then send emailers directly to the person informing them of contact in the coming 24hrs. From this contact information we know who from the sales team is required take the lead further, 1) a person who is trained in retail sales or 2) a person trained in consultative sales.   
Turning customers into advocates – the 3rd part of our real estate digital strategy
Lets review the process so far; 1) we have garnered interest from prospective customers in our market, 2) we have channelled those interested prospects into our website or via GDN forms, giving us the information we need to contact them in relation to products they are interested to talk about. Our sales team can negotiate to close deals and then what? What happens next? 
Our process doesn't end with a sale; step 3) in our real estate digital strategy is about building advocates who help sell the brand and whose data we can use to connect to like-minded prospective buyers. Armed with up-to-date sales information we can now refine the customer database, build rapport, consumer confidence and ultimately.. advocacy.   
Once a customer has purchased your product, you can not forget about them. This is especially pertinent in real estate, whereby customers may have to wait for over a year from sale to completion and handover of their product. During this time, regular and frequent email updates on their purchase helps build post-sale confidence, informing them they made a good choice. Confident consumers promote your brand to their friends and family, building advocacy and enhancing the brand image and ultimately, your bottom line. 
The contact information from each sale is used to build and refine the email database. The data base is used to re-market to our customers and to build interest in other aspects of the project – such as new amenities and facilities that are opening or new events on the development that they would enjoy visiting with family and friends.  
Our real estate digital strategy refines data
Using online tools we can take the psychographics from each confirmed sale to build a new audience of similar people, prospective customers who are likely to also want to buy our products. This data base is used to build our audience and in turn, enhance our Social Media marketing, its a virtuous circle that gets better every time. 
Didn't see part one?
Unisono's Real Estate Digital Marketing Services include:
Research & Benchmarking, Digital Audit, Digital Marketing Strategy, Campaign Concepts, Artwork, Copywriting, Production, Management & Delivery. ROI & Metrics
Here are examples of great real estate brands. Want to work with us on your real estate brand strategy or marketing approach? Get in touch today.
info@unisonoagency.com
Tel. (+973) 17558787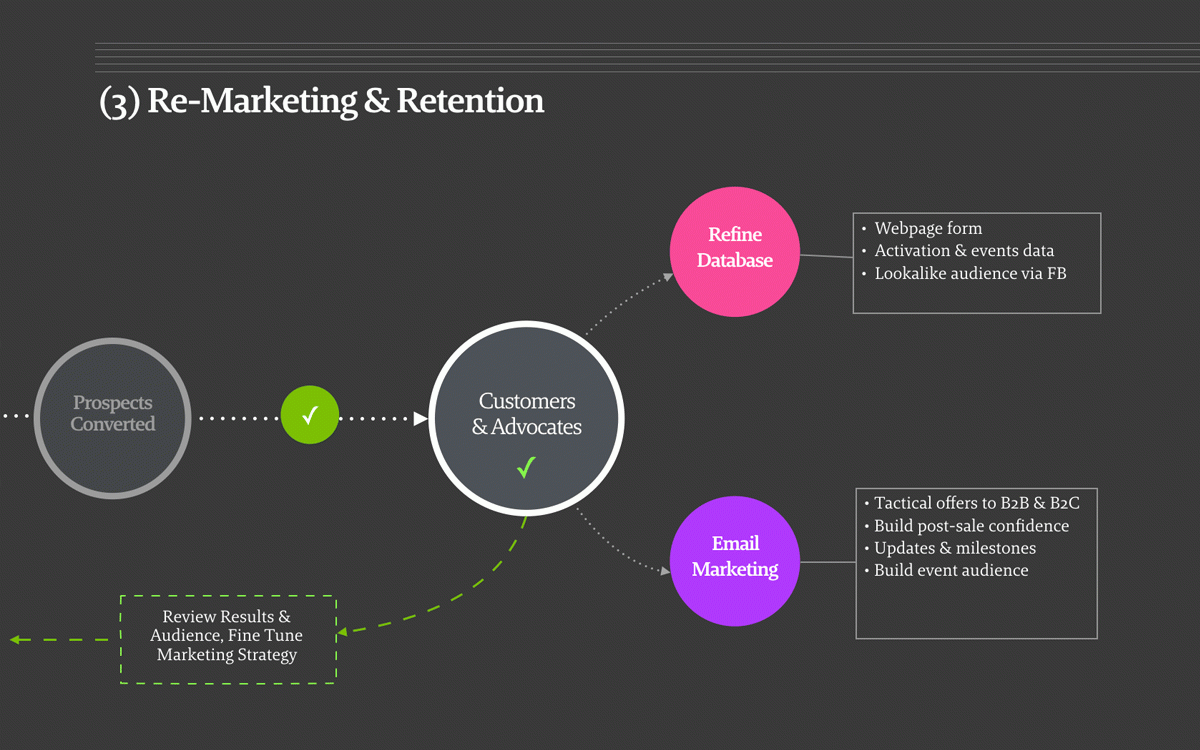 The third step in (digital) marketing is to build advocacy with customers and refine the database for future marketing efforts.