Blog. Real estate digital marketing, a case study in two parts
Digital marketing is all the rage these days, but how can you excel?
The agency was appointed recently to work on a real estate digital marketing strategy for a leading regional developer. Here is how we went about helping them make better connections, generate leads and fill their sales funnel. This is the first of a two part case study. For insights that matter, read on! 
Great real estate digital marketing starts with benchmarking
Firstly we audited their digital footprint, to understand all the blocks in the interest-to-action flow. It was clear that although they had social media the engagement was close to zero and any interest generated by their sole social channel was not flowing towards their website, or any other channel they controlled. The connection was lost. 
Three core aspects to digital marketing
Real estate digital marketing, or any kind of digital marketing, is much the same as traditional marketing – you have a product that a select segment of the populace will be motivated to buy, you need to get in front of these people, convince them that your offer is suited to their needs, convert them and retain them for future sales. Digital marketing simply uses technology in place of the physical – the underlying marketing dynamics haven't changed. 
With our client's real estate digital marketing strategy, we helped them understand how the three core phases of marketing related in the digital domain: 1) we need to capture interest from the segment who will be most likely to buy what we are selling, 2) we need to prospect and convert these interested (prospective) customers before 3) we re-market to them, build rapport and transform our client's buyers into brand advocates. 
When SEO isn't working, we need SEM
We reviewed their SEO which wasn't working. A page 10 result for 'Villas for sale Bahrain' was not going to win them consumer interest, we had to engage SEM to get them in front of interested eyeballs in the 1st page – this is where 91% of all clicks happen and over 75% of people wont event venture past page 1. Whilst built their SEO performance we started blogging to help them improve their SERP performance.
Great real estate digital marketing requires us to get social
We reviewed their social media to help them understand the importance of a unified and consistent brand image, proffering ideas for unique and engaging content pillars and use of highlights to drive informative content that could convert to sales. We also created CTAs to drive people to the website for greater conversion control. Finally, we outlined the channel strategy for them so they would employ social channels effectively. 

A summary overview of the state of our client's real estate digital marketing - or lack there of.
Get them in front of interested eyeballs in the 1st page of search - this is where 91% of all clicks happen and over 75% of people wont event venture past the 1st page
The shy marketeer.
From a review of the competitions Social Media we could see who the winners and losers were and across which channels. We provided the client with a clear channel strategy that would help them to get in front of the people who would ultimately connect best to the offer their brand provides.
Database-driven real estate digital marketing really works
The company is part of a regional banking network yet were doing nothing to leverage this partnership. The bank had a large consumer database that we could leverage to fill the sales pipeline. From the data we would know, who could afford what kind of loan but had not yet taken one and cross referencing their age and marital status we could build a compelling offer to them to purchase products form our client.
The strategic use of the database enables our client to then build look-alike audiences on social channels that provide paid posts to people who share similar psychographics and demographics to our audience. People who were like our customers but who we didn't have a connection with, yet.     
Retargeting leads via GDN campaign
Further to this, our strategy also included a GDN (Google Display Network) campaign that would retarget people who didn't click on our SEM campaigns – these people were interested to search for our client sells but didn't click our links. Retargeting them with our GDN banners helps us to gain more prospects.
Part two continues here…
Unisono's Real Estate Digital Marketing Services include:
Research & Benchmarking, Digital Audit, Digital Marketing Strategy, Campaign Concepts, Artwork, Copywriting, Production, Management & Delivery. ROI & Metrics
Here are examples of great real estate brands. Want to work with us on your real estate brand strategy or marketing approach? Get in touch today.
info@unisonoagency.com
Tel. (+973) 17558787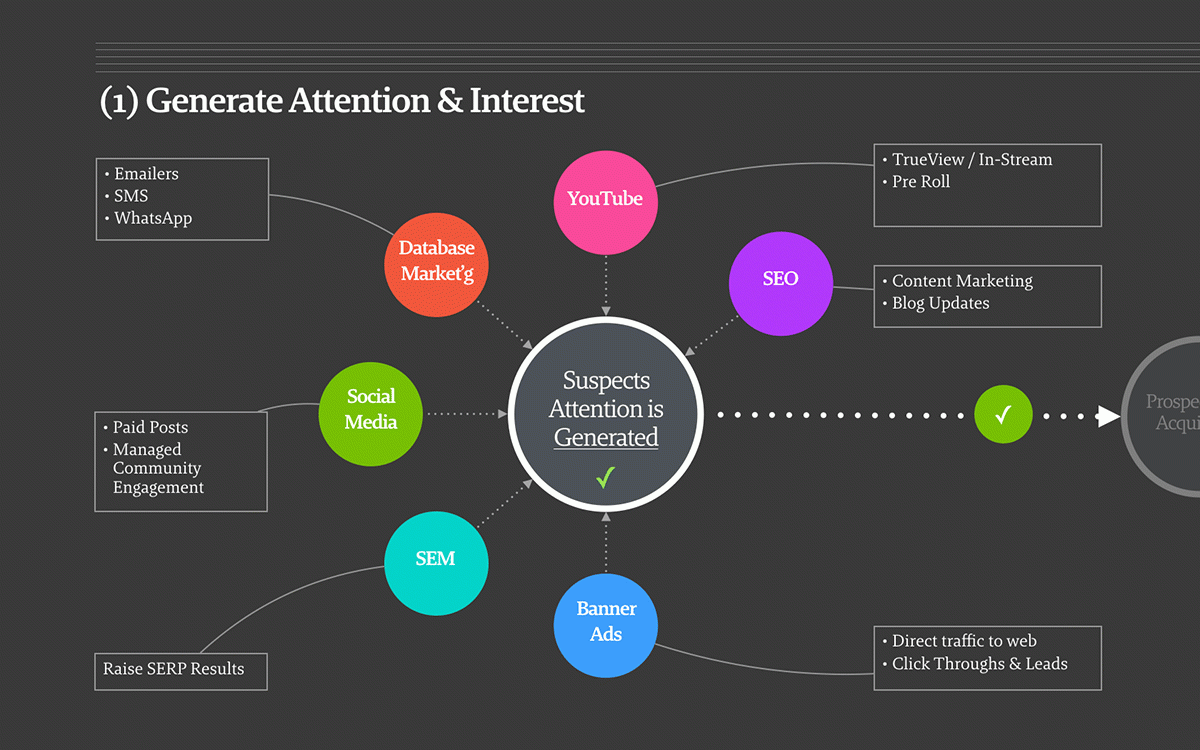 The first step in (digital) marketing is to garner interest from potential customers.