Blog. Is great print design still relevant and if so, how can you use it?
Read on and discover the 'touchy-feely' joy of the printed page
In our digital age, is great print design still relevant for brands or advertising campaigns? What brands still benefit from it and why would your brand consider using print as part of its strategic marketing campaign mix?
Whilst digital design has been on the ascendency since 1984 and has really caught the attention of marketeers in the Middle East recently, it's still as true in Dubai as it is in New York, that the age old medium of print can't be beaten for its ability to connect physically with a consumer. Today anyone with a mobile can get an online presence via channels like Instagram or free sites like WordPress but few things can communicate your brand's class and prestige like beautifully crafted stationery, brochure or company profile. Just having your brand represented in print signifies a certain status. The underlying message communicated by the physical presence of a professionally designed profile or brochure is that you are established, notable and to be taken seriously.
Great print design is possible in the Middle East
Great print design in the Middle East is often an ill-considered area of creative development. All too often agencies are considered as the easily sidelined creative front end that can be replaced when it comes to the costly addition of getting designs printed. An essential truth for marketing managers is that the production of print design is every bit as important as the design concept and can not be divorced without consequence. From the idea through to the production, a large body of key design decisions combine to create the final, hands-on effect of print communication. A good designer can not  separate production from design concept; the whole really is greater than the sum of the parts.
Whether it is digital or physical, Great ideas are nothing without great design and great design is nothing without great production. At Unisono we work through digital and physical production in a similar way. We work with production partners to deliver the final result and follow similar processes in getting the delivery right for our clients. Firstly we research the issue and the brief to come up with concepts. These are finalized through the design phase before being prepared for production proofing. In digital terms, the UX is tweaked and page builds and break point scales are finessed. For print, we prepare production mock ups and test substrates (paper, card etc) and finishes (foils, varnishes etc) to see how our intended design ideas eventuate physically on paper.
The Daily Mail is a terrible paper but then so is Art Matt.
Anon
Great print design requires deep thinking
Great design requires deep understanding of the business issue, the end user, the brands tone of voice and the final distance of the design – will it be made digital, printed or even fashioned from steel. Design decision making has to be informed by these considerations. Knowledge of materials and the processes used to form materials into finished products are key to good design decision making.
Great print design requires complete understanding of both the substrate and the mark-making materials you apply to them – typically ink and foiled or blind impressions (called emboss or deboss). This understanding comes into the design thinking at the very beginning of the process – we have to know the end product before we can begin the design journey. At Unisono, we consider every aspect of a printed projects production – the paper, the ink, finishing, binding and casing. All these processes have an essential role in the creation of the final physical experience.
The chosen substrate (paper) is a key design decision and needs to be made for both the cover and inside pages. Substrates communicate in and of themselves. A designer needs to know what paper will communicate the right perception to the intended recipient. Does the design require coloured paper or will white paper with a colour print surface work? What print technique will create the right added creative zest or literal sparkle to a finished design?
Production is central to design agency thinking
With great print design, production isn't an afterthought to be discussed after a design process concludes but a key part of the decision making process in realizing the design idea itself. After initial concepts are shared and design directions accepted, print budgets can be discussed and agreed so a designer can then reflect on paper and finishing (foils, varnishes etc) choices and set about proofing these ideas to find the perfect match.
Proofing the production ideas is an essential step if a designer is to achieve the highest quality print finish. This is especially true in the Middle East where printers can often find it a challenge to reproduce anything deviating from the norm (CMYK and Art Matt typically). Print designers need to use proofing as a test bed to hone design concepts on the actual materials of the final production. While papers might look and feel great in a sample book it is only through thorough proofing that a designer can gauge how their selected papers will take a foil or present solid colours or photographic images. Only once a block is finished and the foil stamped can you fully appreciate how selected papers will handle your foils or how the blind embossing looks.
In summary, great print design is a combination of a great idea brought to life in form and colour and the substance by which it is experienced. Great design whether it is digital or print requires deep understanding of production process and should be considered by the designer and client as a vital part of the design journey rather than an after thought once a design layout is approved.
Ensure your branding stands out
And finally, if you want your brand to stand out in the market place, invest in unique papers, special finishes and inks. In this digital age, great print design might be the one touch point that creates a lasting impression on your consumers.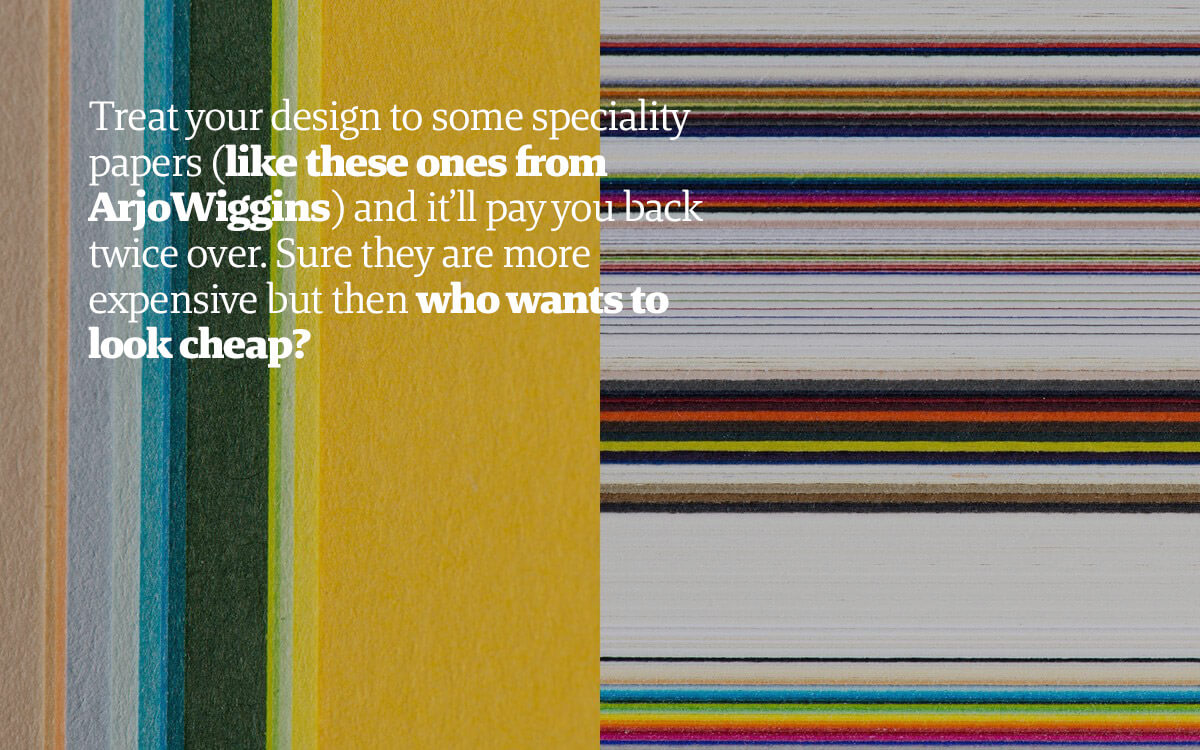 Art matt is the Times Roman of paper.