Unisono wins five new branding awards in 2014
Unisono won big style in branding in 2014 with no fewer than 5 major awards for excellence in branding from three international shows.
The best thing about winning awards is not the show, the speaking or the trophy, it's how it builds the confidence of the agency and the team. It is like it cements the belief that what you are doing is notable and worthy. That you are doing some of the best work of your life and it is being noticed by those who know.
This year (2014) the agency has won awards in three major international shows and in some of the hardest fought categories. Like the win for Seef Mall (Gold, Best Use of a Visual Property, Transform MENA) which was also positively appreciated by Bruno Maag, a long time tyee design hero of our creative director.
Commenting on the awards, Regional CSD Nils Funk commented "It's been a fantastic year for the agency with our best ever showing awards-wise but also a phenomenal year work-wise. The quality is impressively high and the awards are further proof of this."
Every year we enter an award or two but we are not always sure what will win. For example, notable work was entered into two shows (Rebrand and Transform) and won major prizes in one award show and nothing in another. Odd, but that is the crumbling of the cookie; you never know how it is going to go down.
In 2014 we won the following awards:
Transform MENA 2014. Gold. Seef Mall, 2014.
Transform MENA 2014. Silver. Amlak, 2014.
Transform MENA 2014. Bronze. Dilmunia, Bahrain. 2014.
Transform MENA 2014. Silver. Arab Link, UAE. 2014.
Transform MENA 2014. Highly Commended. Al Wa'ab City, Doha. 2014.
Transform 2014. Silver. Al Wa'ab City, Doha. 2014.
Rebrand 100*. Distinction. Arab Link, UAE. 2014.
Again, we would like to thank all our clients (even the shy ones), for their continued support and desire for brilliance. Without them sponsoring our work, we would not be able to make a difference in the world.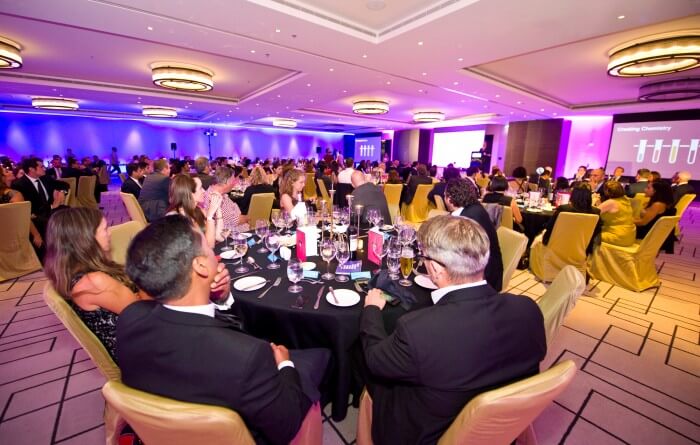 First the first showing, the Agency romped home with no less than four awards and one highly commended!
Amy (our CEO) with one of our delightful award winning clients.
Jawaher (left) and Claudia (right) sitting on top of 4 big trophy boxes.