Unisono one of the biggest winners at Transform Awards
Unisono is proving 2014 was no exceptional year for awards as 2015 is shaping up to be even bigger. So far the agency has picked up no fewer than 12 trophies at the MENA Transform Awards, recognising it's brilliance in branding design and strategy plus three awards from those masters of repetition, Design and Design.
We like awards, especially winning them, so we are all feeling a little giddy here at Unisono Tower with the results our hard work is gaining at recent international award shows including the Transform Awards.
In 2015 the agency has won awards across multiple sectors in the Transform Awards including Telecoms, IT, Energy & Extractives, Professional Services and Financial Services. The agency also picked up 'Best overall Brand Identity' for Batelco which is awarded by the jurors and contested by all entrants. A brilliant result for the agency and proof again of our client's belief in our work and the power of our relationship.
Commenting on the Transform Awards wins, Executive Creative Director Liam Farrell said  "We are really building on last years showing with another agency-best in terms of results. Not only have we won a slew of awards but we have done it with strong ideas for really characterful, compelling brands".
In 2015 we won in the following award shows
Transform Awards, MENA.
'Best Overall Brand Identity'. Gold. Batelco.
'Best Brand Identity from the Technology & Telecommunications Sector'. Gold. Batleco.
'Best Implementation of a Brand Development' Gold. Batelco.
'Best Copy Style or Tone'. Silver. Rukn.
'Brand Identity from the Financial Services Sector'. Silver. Rukn.
'Brand Identity from the Professional Services Sector'. Silver. Streetlight.
'Best Brand Identity from the Technology & Telecommunications Sector'. Silver. Rukn.
'Best Brand Identity from the Energy & Extractives Sector'. Bronze. Enerji.
'Best brand architecture solution'. Bronze. GFH.
'Best Creative Strategy' Highly Commended. GFH.
'Best Brand Evolution' Highly Commended. Batelco.
Design & Design.
February. GFH, Corporate Profile.
April. Unisono, Collateral.
July. Bahrain International Garden Show, Book.
Again, we would like to thank all our clients for their continued support and desire for brilliance. Without their kind consideration we would not be able to make a do the work we do.
Awards Links
Amy Morgan and Abdulla Idris on stage at Transform Mena 2015 accepting one of three Golds Unisono won for Batelco.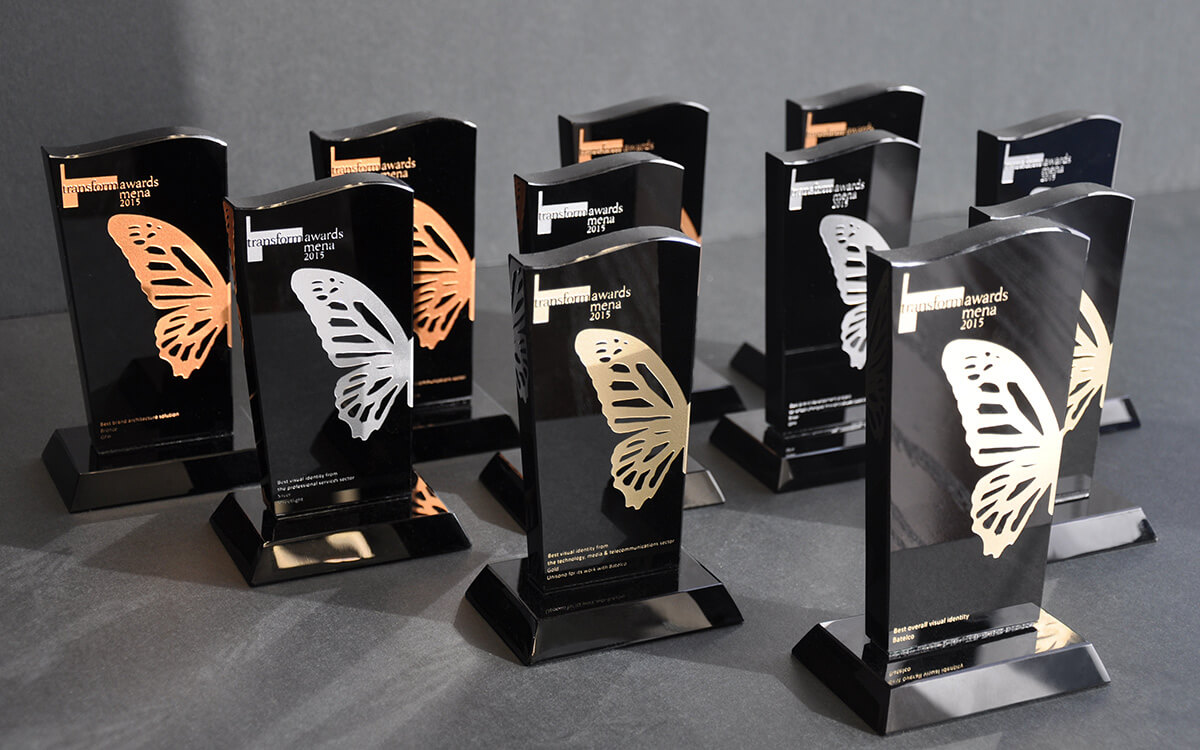 A slew of loverly metal from Unisono's winners at Transform Mena International Branding Awards 2015.